​
Snapshot date: 5th April 2021:
The data for Hewett Recruitment includes permanent employees and Temporary Workers. Once again, we have found that women are paid on average more than men, but the gap has closed over the last few years. Mean bonus pay is almost exactly the same for men and women, with women earning marginally less.
Women's hourly rate at Hewett Recruitment is
5.7% HIGHER (mean)

1.6% HIGHER (median)​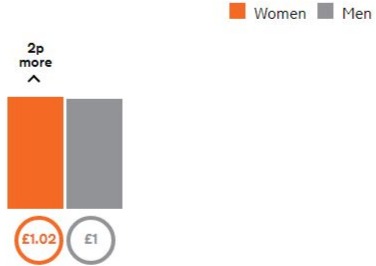 Pay quartiles at Hewett Recruitment
How many men and women are in each quarter of the employer's payroll.
| | | | | |
| --- | --- | --- | --- | --- |
| ​ | Top Quartile | Upper Middle Quartile | Lower Middle Quartile | Lower Quartile |
| Female | 45% | 49% | 47% | 30% |
| Male | 55% | 51% | 53% | 70% |
Women's bonus pay at Hewett Recruitment is
0.6% LOWER (mean)

10.0% LOWER (median)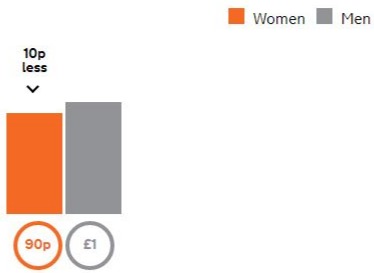 ​
Who received bonus pay at Hewett Recruitment
43.4% of men

72.9% of women
​Hewett Recruitment have operated in my home town of Kidderminster for many years and I have personally benefitted as a candidate in my earlier years and as a client in my current profession. They always go that extra mile, ensuring that candidates and clients are a great match for the roles they're placed in. A very professional team that takes time to really understand your business requirements and work flexibly around your commitments

Trusted, Tried and Tested

David, Hewett Client

I'd rate the service from the Hewett a 10 out of 10, as I have found your team to be responsive and keep me up to date.

"I found your team to be responsive and keep me up to date"

IT Candidate

I'd rate the service from the Hewett a 10 out of 10, as I have found your team to be responsive and keep me up to date.

"I found your team to be responsive and keep me up to date"

IT Candidate

I believe Hewett Recruitment really did deliver the best customer experience because Dominic Jones who is my recruiter has been brilliant from our very first chat. Every chat from there has been really positive and he has constantly been able to get back to me very quickly. In terms of improvements, there are none, I believe everything Hewett Recruitment and Dom has done for me has been really good. I would without a doubt recommend Hewett Recruitment to my friends and colleagues because I believe service here is 10/10!

"I would without a doubt recommend Hewett Recruitment"

Mujahid Ahmed, IT Candidate

​Definitely a 10 😊 We really like working with Hewett and hope our business relationship continues. Ben, Kate and Dominic have been especially helpful and proactive this year and we enjoy working with all your agents.

"We enjoy working with all your agents"

Laura Benjamin, HR Generalist

I have only recently started using your services and so far I have had a good experience and have been provided an update which is always good as most recruitment agencies don't provide this, but from the point of a jobseeker, I always like to know where you are with an application and so far the updates provided by your team have been much appreciated. I will score your services 9 out of 10 so far and hopefully, it will be 10 if I secure a position that you recommend me for. I would definitely recommend to a friend. 

"Good experience: Receive useful updates from staff"

IT Candidate

We would rate the service we received from Hewett Recruitment IT team a 10 out of 10. Your service is always excellent and the candidates are always of interest.

"Your service is always excellent"

IT Client

Very pleased with the level of service I have received recruiting for positions. The 'wow' has to be the responsive and cheery service I have received from Jennie Lessemun who has always managed to find someone for us and is a pleasure to work with.

"Very pleased with the level of service"

IT Client

Very pleased with the level of service I have received recruiting for positions. The 'wow' has to be the responsive and cheery service I have received from Jennie Lessemun who has always managed to find someone for us and is a pleasure to work with.

"Very pleased with the level of service"

IT Client

Without a doubt, the Hewett service is 10 out of 10. The Consultants I have dealt with are really good, very pleasant and helpful. I have dealt with Jennie Lessemun and Kate Turnbull in the past and love catching up with them at HR Events. They are both fabulous to get on with and very professional.

"Fabulous to get on with and very professional"

Commercial & IT Candidate

Without a doubt, the Hewett service is 10 out of 10. The Consultants I have dealt with are really good, very pleasant and helpful. I have dealt with Jennie Lessemun and Kate Turnbull in the past and love catching up with them at HR Events. They are both fabulous to get on with and very professional.

"Fabulous to get on with and very professional"

Commercial & IT Candidate

9/10 – delighted with the service and support received from Hewett. Sam Birtwistle, specifically, has consistently proven himself an insightful account manager.

"Delighted with the service and support received"

IT Client, Malvern

10/10 – always helpful, professional and go the extra mile. Big shout out to Jennie Lessemun who I deal with the most, always a pleasure to work with.

"Always helpful, professional and go the extra mile"

IT Client

10/10 – always helpful, professional and go the extra mile. Big shout out to Jennie Lessemun who I deal with the most, always a pleasure to work with.

"Always helpful, professional and go the extra mile"

IT Client

I would have no problem recommending Hewett to any of my friends or colleagues. The Consultants were able to put me forward very quickly for several possible roles. 10 out of 10 from me!

"Hewetts have been able to put me forward very quickly for several possible roles"

IT Candidate

I would have no problem recommending Hewett to any of my friends or colleagues. The Consultants were able to put me forward very quickly for several possible roles. 10 out of 10 from me!

"Hewetts have been able to put me forward very quickly for several possible roles"

IT Candidate

I really like that you don't spam me with random candidates, who may or may not be relevant to what we do, regardless of whether I have any vacancies – this seems to be standard practice with lots of other agencies. Sam Birtwistle has an appreciation of what we do here and sends me relevant candidates. He was also easy to deal with when you supplied us a contractor recently and then had to let him go earlier than planned due to changing business requirements. I prefer dealing with a local agency, rather than someone who thinks that Malvern's in either Bristol or Birmingham!

"They have an appreciation of what we do here"

IT Client

10 is the score. Jennie did a great job and is very easy and helpful to work with!

"Very easy and helpful to work with"

IT Client

I am extremely happy with the service we have received from Jennie, she quite simply understands what we are looking for, she is very professional but personable too. She acts as the "honest broker" earning the trust of both parties.   

"Very professional but personable too"

IT Client

I am extremely happy with the service we have received from Jennie, she quite simply understands what we are looking for, she is very professional but personable too. She acts as the "honest broker" earning the trust of both parties.   

"Very professional but personable too"

IT Client

I would like to inform you that I am very happy about the service I got from your company and I would be more than happy to give it a rate of 10. I also would be very confident to recommend your company's services to other friend and colleagues. 

"I am very happy about the service I got from Hewetts"

IT Candidate

I would like to inform you that I am very happy about the service I got from your company and I would be more than happy to give it a rate of 10. I also would be very confident to recommend your company's services to other friend and colleagues. 

"I am very happy about the service I got from Hewetts"

IT Candidate
​Hewett Recruitment have operated in my home town of Kidderminster for many years and I have personally benefitted as a candidate in my earlier years and as a client in my current profession. They always go that extra mile, ensuring that candidates and clients are a great match for the roles they're placed in. A very professional team that takes time to really understand your business requirements and work flexibly around your commitments

Trusted, Tried and Tested

David, Hewett Client

​Would like to thank Hewett for helping me with finding my new position as a Junior Sales Engineer at RG Luma Automation. For anyone looking for any Engineering opportunities within the west midlands I'd highly recommend you contact them!

"I'd highly recommend you contact Hewett Engineering!"

Dominic Davies, Engineering Candidate

The engineering desk has done a fantastic job. They have now found two candidates for us, when the national engineering recruitment market leader couldn't find anyone due to a national C&I Tech shortage. Fantastic work!

"They have now found two candidates for us, when the engineering recruitment market leader couldn't"

Technical Client - Evesham, Worcestershire

I have had repeated success recruiting via the Engineering Department at Hewett. High-quality candidates are submitted quickly for technical roles who have been prepared well for interview. I am impressed with the professionalism of service I receive and the high calibre of potential employees they have available. My business will continue to approach Hewett for all our recruitment needs.

"High-quality candidates are submitted quickly for technical roles"

Engineering Client, Worcester

No complaints this end – top marks. We wouldn't use anyone else for our staffing. The service from your team is always excellent and the Consultants always keep us well informed as well as supplying the right candidates for the jobs. 10 out of 10 from me.

"No complaints this end – top marks"

Engineering Client, Worcestershire

We would absolutely, without a doubt score you a 10/10. It is felt that Hewett understands our business and culture therefore the candidates that are fed through are already matched to this. Hewett Consultants have formed excellent relationships with the staff and this personable but professional approach has been excellent during the stress of moving premises.

"Hewett understands our business and culture"

HR Manager, Malvern, Worcestershire

I'm happy to say 10. I don't think you could do any more for us when we need you, but most importantly you are not constantly getting in touch when we don't.

"I don't think you could do any more for us"

Engineering Client, Kidderminster
​​Kate actually listened to me, and listened to the company needs and want we wanted, unlike other agencies who tend to tell me what they wanted rather than listen to what we need, so that was the real difference

"Kate listened: that was the real difference"

Commercial Client

​Hewett Recruitment have operated in my home town of Kidderminster for many years and I have personally benefitted as a candidate in my earlier years and as a client in my current profession. They always go that extra mile, ensuring that candidates and clients are a great match for the roles they're placed in. A very professional team that takes time to really understand your business requirements and work flexibly around your commitments

Trusted, Tried and Tested

David, Hewett Client

​I would rate Hewett a 10 out of 10. I would most definitely recommend you to my friends. I have found the team really helpful and understanding.

"I have found the team really helpful and understanding"

Clare, Commercial Candidate

​Always 10 out of 10 for Hewett. Placed me in my current company 8 ½ years ago and have always been great when it comes to finding staff. I always recommend Hewett to others whether it be colleagues or friends looking for staff or employment.

"I always recommend Hewett to others"

Jackie Price, Customer Service Lead

​Kate at the Worcester branch was exceptional. After a short, informal interview (during which she put me totally at ease), Kate had identified an ideal job for me. The next day I had confirmation of an interview. I'm now enjoying every day at the job and am so thankful that Hewett Recruitment was recommended to me!

"Kate was exceptional"

Rebecca Plant, Commercial Candidate

​The service I've received is definitely 10 out of 10. Kate has always come back with any of my questions about the new forthcoming role. She has always been so kind and friendly with her approach to finding my next permanent role and is a real asset to Hewett Recruitment. Thank you so much.

"Kate has always been so kind and friendly"

Kerry Rose, Commercial Candidate

​"We had some candidates, we offered the role and the candidate said "not for me ta" – completely unphased Anthony kept the search going and found another candidate, who fitted the bill perfectly. I cannot fault Hewett – local and personable"

"I cannot fault Hewett"

David Harris, Financial Controller

​All the staff at Hewett are very friendly and knowledgeable. Overall, extremely happy with Hewett Recruitment and the team.

"Extremely happy with Hewett Recruitment and the team"

Pascale, Roxel

Great communication, always available on the phone, easy to discuss things with. The best aspect is that Kate really listened to our needs and what we wanted. We have dealt with a couple of other agencies, and you can see the difference with Hewett. A true professional agency.

"You can see the difference with Hewett. A true professional agency"

Commercial Client

​Definitely a 10 😊 We really like working with Hewett and hope our business relationship continues. Ben, Kate and Dominic have been especially helpful and proactive this year and we enjoy working with all your agents.

"We enjoy working with all your agents"

Laura Benjamin, HR Generalist

​Hewett's have provided some very professional ladies to assist on our main reception desk here in the business centre. We look forward to a continued business relationship in years to come.

"10 out of 10 - we would certainly recommend your services"

Temporary Commercial Client

The correspondent Kate was very efficient and was able to give us 3 strong potential candidates in a very short timeframe. I would definitely use/recommend your services in the future.

"We received 3 strong potential candidates in a very short timeframe"

Commercial Client

We would like to give you a score of 10 out of 10 and would certainly recommend your services. Hewett's have provided some very professional ladies to assist on our main reception desk here in the business centre. We look forward to a continued business relationship in years to come.

"We would certainly recommend your service"

Temporary Commercial Client

Staff put themselves out to help people find work and are easy to chat with, especially in what can be difficult times for the jobseeker. Nothing is any trouble and I have been treated with the upmost respect and kept in the loop about jobs

"I have been treated with the upmost respect"

Commercial Candidate

I wouldn't hesitate to recommend you. In most cases other agencies promise but don't perform. You perform exactly how you would expect an agency to perform.

"You perform exactly how you would expect an agency to perform"

Commercial Client

As a new customer to Hewett Recruitment, I have to give your service a 9 !!! The Consultants have been brilliant. The standard of candidates (temp reception) has been excellent so far- thank you

"The standard of candidates has been excellent"

Commercial Client

"I would definitely give you a 10, I have already suggested you to some of my friends. I think I was just really impressed with how quickly I started getting interviews after signing up with yourselves."

"I was really impressed with how quickly I started getting interviews"

Commercial Candidate

"I would give Hewett's a massive10/10. Anthony has been amazing and helped me get the job I was really looking forward to doing. I would recommend you to friends and family in an instant. Thank you"

"I would recommend you to friends and family in an instant"

Commercial Candidate

The service at Hewett is very good and I think you have a great team. Both on the temp side and also permanent.

"You have a great team"

Commercial Client, Worcestershire

The difference between Hewett and the rest is quite simply quality. The consultants go out of their way to understand what we need and match that with candidates you have. This means that the relationship built is one of trust. This was demonstrated when I needed a temporary person for the sales office and the Consultants discussed potentially two candidates with me that were suitable. In the end I let them make the choice, and she was of course correct. They have been an excellent temporary worker!

"The difference between you and the rest is quite simply quality"

Commercial Client

We would give you the score of 10/10 here at Bewdley, as throughout the year you have been most helpful and have supplied us with staff who have been very good. We would have no problems to recommend you to other companies needing temporary members of staff.

"Throughout the year you have been most helpful"

Commercial Client, Worcestershire

I will give 10 out of 10 for your service we always have first class service and staff.

"We always have first class service and staff"

Commercial Client, Worcestershire

All the consultants I speak to are friendly, knowledgeable and extremely helpful. I really like the fact that having worked with us for numerous years Hewett's understand our business and the fact that unlike other agencies I do not get phone calls every month asking if we have any vacancies. Hewett's are always our first port of all for temp or perm staff.

"All the consultants I speak to are friendly, knowledgeable and extremely helpful"

Commercial & Industrial Client, Worcestershire

Happy with the service we received and think the Consultant's at Hewett did a great job and are very personable. Our new recruit is working out well, so we'd rate the service a 10/10! Thank you

"Hewett did a great job and are very personable"

Commercial Client, Worcester

Happy to give 10/10. Mainly deal with Anthony but cannot fault the service generally from Hewett's. You've provided us with some wonderful staff over the last few months, can't fault you.

"I cannot fault the service"

HR Officer, Kidderminster

Both the Temporary and Permanent Consultants are always extremely helpful and efficient with their responses and providing assistance. With this in mind, I would rate Hewett Recruitments service a 10 out of 10. Thanks so much for all of your help.

"Always extremely helpful and efficient with their responses and providing assistance"

Temporary Commercial Client

We have found the service received from Hewett Recruitment to be prompt and efficient. Listening to what we wanted and delivering extremely high quality temporary staff.  We would have no hesitate in recommending to our colleagues and partners in the local area.

"They listen to what we want and deliver extremely high quality temp staff"

Cultural Programmes Officer, Malvern, Worcestershire

10 out of 10 for service. Communication is good, everyone knows who I am when I phone and your team seem to understand what we do as a business which means you always seem to provide the right candidate, no issues.

"Everyone knows who I am when I phone"

HR Manager, Kidderminster

We were very pleased with Hewett's for finding us 3 candidates one of which we were able to take on, the standard on candidates were very good and well-vetted prior to interview. Kate was very professional and helpful throughout the whole process  I would definitely recommend to a third party.

"The standard on candidates were very good and well-vetted"

Commercial Client

I have just recently found my new role through Hewett's and Kate was just great from start to finish. Really lovely, a friendly approach and didn't seem to be 'selling a service' like a lot of recruitment agencies can do.  Would always recommend you guys as I've used you for a long time.  Not to forget Anthony who I have previously spoken with who was always really pleasant.

"Great from start to finish"

Commercial Candidate

Definitely a 10. Your recruitment agency is very efficient, so helpful and very friendly.Would recommend to anyone.

"Your recruitment agency is very efficient, so helpful and very friendly"

Commercial Candidate

I would certainly rate the agency very highly. I found Kate Turnbull particularly helpful and attentive. Kate is the only recruitment agent I've ever met with who I felt truly listened to my career situation.

"The only recruitment agent I've ever met with who I felt truly listened to my career situation"

Commercial Candidate

You have provided some fantastic temps over the past few months. I've recieved great feedback regarding our recent Marketing Temp, and we have taken on our Membership temp as a FTC so cannot speak highly enough of them and the work the Hewett team have done!

"You have provided some fantastic temps over the past few months"

Commercial Temp Client

Without a doubt, the Hewett service is 10 out of 10. The Consultants I have dealt with are really good, very pleasant and helpful. I have dealt with Jennie Lessemun and Kate Turnbull in the past and love catching up with them at HR Events. They are both fabulous to get on with and very professional.

"Fabulous to get on with and very professional"

Commercial & IT Candidate

Definitely a 10 from me. Very pleased with how your processes work. Kate was Excellent.

"Very pleased with how your processes work"

Commercial Client

I am always pleased with the service provided by Hewett, particularly Kate. I will always come to Hewett for any admin roles. The Malvern Employment Law Forum is really useful and I'm grateful to Hewett for facilitating this. The score I'd give is 10.

"I am always pleased with the service provided by Hewett"

Commercial Client

The Hewett Recruitment serivce is 10 out of 10! I am extremely likely to recommend you to anyone seeking temporary workers.You make it incredibly easy to organise and select temps, all done with a couple of calls and a couple of emails – very impressive. The quality of the temps we have received recently has been incredible. They have fitted in quickly and have been real assets to the team.

"You make it incredibly easy to organise and select temps"

Temporary Commercial Client

I would definitely score the service I received at Hewett Recruitment a 10 out of 10 and recommend you to anyone without any qualms.

"I'd recommend you to anyone without any qualms"

Commercial Client

​The Temp team at Hewett Recruitment are always helpful and responsive to our needs. Communication is clear and consistent at each stage. The service we received is 10 out of 10!

"Always helpful and responsive to our needs"

Temporary Commercial Client

My dealings with Kate were really positive - she is highly professional, responsive, and seemed genuinely interested in our work and requirements. So based on my experience, I'd rate the Hewett service a 10 out of 10 and I am extremely likely to recommend you to a third party. 

"Highly professional, responsive, and seemed genuinely interested"

Commercial Client

I would definitely give Anthony a 10. Whilst I was employed at my previous employer, my old manager recommended I used Hewetts to recruit our employees as you can provide a valuable local connection and perspective. It's only now, that I'm using your agency from a candidate perspective that I can understand the true value in this. Anthony keeps me updated on the current market situation and my applications. He goes above and beyond to spend time answering my questions and provides me with his valuable insights of which I am very thankful. I have now experienced the exact opposite with some agencies so can truly compare my experiences. I would 100% recommend Hewetts. 

"Hewetts provide a valuable local connection and perspective"

Commercial Client, turned Candiate

I'd be more than happy to give a score of 10 for my experience with Hewett Recruitment. Kate in your Worcester office has been wonderful to work with. She has placed me in my current maternity cover role and is helping me with my next opportunity. I would definitely recommend Hewett to a friend. 

"Kate in your Worcester office has been wonderful"

Commercial Candidate

A definite 10 from me!  Hewett Recruitment is always responsive and honest and your Consultants seem to have an intuitive understanding of our needs.  As well as the fantastic recruitment service, your work with partners such as Chamber of Commerce and CIPD keeps my knowledge up to date as an HR professional.

"Always responsive and honest"

Commercial Client, Worcester
​I would score Hewett Recruitment's service 10/10. Chelsea was brilliant, kept me informed and was very professional but also relatable.​

"Chelsea kept me informed and was very professional but also relatable"

Finance Candidate

​"We had some candidates, we offered the role and the candidate said "not for me ta" – completely unphased Anthony kept the search going and found another candidate, who fitted the bill perfectly. I cannot fault Hewett – local and personable"

"I cannot fault Hewett"

David Harris, Financial Controller
​Excellent recruitment agency from a 'customer' perspective. Knowledgeable, friendly and extremely helpful staff. The response I get, even to short notice requests, is perfect. Would recommend this Agency to any company looking for workers.

"Would recommend this Agency to any company looking for workers"

Wayne, Industrial Client

​Best recruitment agency in the area! So friendly and professional. I definitely recommend it to everyone in search of a job! Thank you for everything, ladies!

"Best recruitment agency in the area!"

Gabriela Patroiu, Industrial Candidate

I'd definitely rate your service a 9 out of 10 because of how fast you helped us find people to help us move forward quicker. The people you have sent us have been great, have been reliable and have done what we have asked to a certain extent. I appreciate the time and effort it takes to find the right people for the right job. Thank you again!

"I appreciate the time and effort it takes to find the right people for the right job"

Ross Hurdman, MCD

​A great bunch of people at Hewett they found me a great job. Never known a recruitment agency to be so on the ball, got my first pay slip with no emergency tax no problems with Christmas holidays. Anyone looking for work I would highly recommend this recruitment agency. Thanks Hewett, you have a ten out of ten from me

"Never known a recruitment agency to be so on the ball"

Pete Green, Industrial Candidate

​Walked in to register walked out with a job. Great staff very friendly and professional

"Very friendly and professional"

Steve Newman, Industrial Candidate

​All the staff at Hewett are very friendly and knowledgeable. Overall, extremely happy with Hewett Recruitment and the team.

"Extremely happy with Hewett Recruitment and the team"

Pascale, Roxel

​I would most certainly recommend Hewett's as an agency. I have zero complaints! I have always had a fantastic relationship with Sarah as she just understands what we need, she always sorts us out. Hewett's are the best agency and I would score the service we receive 10 out of 10.

"Hewett's are the best agency"

Industrial Client

​Thank you all again for your help over the time I have been with you.I highly recommend Hewett Recruitment. I have never had any issues in the 15 months I have been working with them. They are extremely efficient in finding immediate work and all the team are always very helpful and professional.

"They are extremely efficient in finding immediate work"

Andy, Industrial Candidate

I would rate the Hewett Temp team 10/10 for service, and would definitely recommend them. We always receive a friendly, prompt service.  Anyone I speak to at Hewett's is always happy to help. Queries are dealt with promptly.

"Always receive a friendly, prompt service"

Industrial Temporary Client

I would give you a score of 10 in terms of recommending your services. From my first contact with yourselves, my interview was arranged quickly and all queries have been answered by your team promptly and efficiently.  Lisa, Sarah, Diane and Steve have been the main contacts I have been in touch with and they have been polite and friendly at all times.  I am enjoying my job and doing my very best on every shift. Hopefully they are happy with me too! :-)

"All queries have been answered by your team promptly and efficiently"

Industrial Candidate

No complaints this end – top marks. Wouldn't use anyone else for our staffing. The service from your team is always excellent and the girls always keep us well informed as well as supplying the right candidates for the jobs.10 out of 10 from me.

"Wouldn't use anyone else for our staffing"

Industrial Temporary Client

I would score Hewett's a 10 out of 10. They have been so helpful and always ready to take a call. Within 5 days I had a job could not recommend this company enough. Thank you for finding me a job I love

"They have been so helpful and always ready to take a call"

Industrial Candidate

I really enjoy being a part of Hewett's :-) My 'wow moment' was the whole process of the tasks that were sent to me before doing my interview with yourselves. Another moment that I feel should be recognised is whenever I need a question or a bit of help, I am always guided in the right direction. I am glad that I chose you as an agency to work with.

"If I need a bit of help, I am always guided in the right direction"

Industrial Candidate

Hewett has been a god send in finding me a job and helping me get into it. The service is amazing, the team there are so cheerfully and helpful I definitely would recommend people to the agency. Thank you

"Hewett has been a god send in finding me a job"

Industrial Candidate

I'd score my experience of the Temp team at Hewett Recruitment a 10 as the girls at Kidderminster are extremely helpful! So much so that I no longer used any of the other 4 agencies I've used in the past. Brilliant service!

"I no longer used any of the other 4 agencies I've used in the past"

Industrial Client, Malvern

All the consultants I speak to are friendly, knowledgeable and extremely helpful. I really like the fact that having worked with us for numerous years Hewett's understand our business and the fact that unlike other agencies I do not get phone calls every month asking if we have any vacancies. Hewett's are always our first port of all for temp or perm staff.

"All the consultants I speak to are friendly, knowledgeable and extremely helpful"

Commercial & Industrial Client, Worcestershire

Sarah and Lisa are brilliant! They work really hard for me and I really do appreciate the work they put in. I know I'm a challenging customer at times, however, the team cope with my requirements and keep me informed. 10 from me.

"The team work really hard for me"

Operations Manager - Tenbury Wells

My experience with Hewett as a temp has been 10 out of 10, I cannot fault it and I don't think you need to improve on anything!

"I cannot fault your service"

Industrial Candidate

I would score you 10/10. I find Hewett Recruitment very responsive. We receive a good caliber of candidates who always appear to be efficient, confident and friendly. Would highly recommend.

"We receive a good caliber of candidates who are efficient, confident and friendly"

Industrial Client

All the staff at Kidderminster have been fantastic and as helpful as they possibly could be, I've really tried to think of ways of improving the working experience but can't because they do such a good job. I do and will continue to recommend Hewetts to friends and colleagues so it's a 10 /10 from me.

"All the staff have been fantastic"

Warehouse & Logistics Manager

10 out of 10 for service. Communication is good, everyone knows who I am when I phone and your team seem to understand what we do as a business which means you always seem to provide the right candidate, no issues.

"Everyone knows who I am when I phone"

HR Manager, Kidderminster

Because of my personal situation, the shifts you provide are perfect for me. I have only used your agency but if someone needs the same sort of hours I would 100% recommend your agency, you have been very understanding of my requirements.

"I would 100% recommend your agency"

Industrial Candidate

I have zero complaints to be honest, the staff who I speak to in the office are always very helpful, I normally speak to Lisa who is great and understands our account. I would rate the service 10 out of 10

"The staff I speak to in the office are always very helpful"

Industrial Client

Hewett Recruitment have supported the growth and development of International Glazing Services and Lens-Online on a sole-supplier basis for a number of years. This includes helping to ensure a smooth transition when the businesses moved to a new, purpose built site as well as reacting quickly and effectively to peaks in demand at short notice. Both of our businesses recruit for staff on a Temp-to-Perm basis, putting greater emphasis on maintaining the quality and reliability of the candidates…something that Hewett Recruitment has been able to do with minimum fuss. Between us we have built strong relationships at all levels in the business and I couldn't recommend Hewett more highly as a supplier of choice.

"Hewett react quickly and effectively to peaks in demand at short notice"

Industrial Client, Kidderminster

I would definitely recommend Hewett Recruitment to family & friends. The temp team kept me in work for the 5/6 months, without doubt.

"I would definitely recommend to family & friends"

Industrial Candidate
Executive Talent Testimonials
I would highly recommend Hewet Recruitment for the professionalism, care and for the support they provided in preparing for the interview. Right from the start, they were very open and transparent which is appreciated. I would give Hewet Recruitment 10 out of 10​

"Hewett were very open and transparent which is appreciated"

Executive Talent Candidate

I was very pleased with the service you provided - I guess two things stood out: 1. I didn't feel pressured at any point, and you gave me time to think things through. I was working through a significant change to my career, and as you found me (not me applying to you), I needed some space to 'get my head around' the change. Which you gave me.2. You provided the flexibility I needed to talk to you in the evening. I appreciate this is somewhat anti-social!

"I was very pleased with the service you provided"

Executive Talent Candidate