Hewett Recruitment Temp team's exclusive partnership with IGS (International Glazing Services Ltd)
International Glazing Services "Teamwork is the foundation of our success"
Part of the Specsavers group, IGS is a state of the art, purpose built assembly facility situated in Kidderminster. Using the latest technology, IGS assembles the customers required lenses and frame together, providing spectacles UK Specsavers stores, care homes and online customers. The purpose-built facility spans over 30000sq feet and can produce over 80000 pairs of spectacles per week.

​
​Our Industrial team have built a reputation for supplying good quality and reliable individuals to the companies over a number of years. Stourport Road, Kidderminster based IGS, who are part of the Specsavers group, rely on Hewett Recruitment to find temporary workers to cover the variety of roles within the organisation.
International Glazing Services' are seeking a number of Warehouse & Assembly Operatives to join their team on a temp-perm basis, offering great training and development programme, meaning no prior knowledge of the industry is required. All training is provided.
IGS is based in their new, state of the art premises on Stourport Road in Kidderminster.

Many of the temporary job opportunities can lead to permanent employment
​
A note from the IGS Management Team:
IGS are a fast growing state of the art production, warehousing, and distribution facility who are part of the multi-national Specsavers Group - the world's largest privately owned optical group.

You will be well-rewarded for your work at IGS. As a business, our visions and values are extremely important, we are people focused and offer individual growth and development for those we believe will become the future of this successful business.

Not only will you be part of a secure, growing business, you will be offered a competitive hourly rate, along with a number of enticing Company benefits
​
Benefits of working at International Glazing Services (IGS), within the Specsavers Group:
High proportion of Temp to Perm opportunities

Real living wage employers

'Bright Ideas' – offering £50 for any ideas that are implemented

Colleague "company Hero" recognition scheme

Eye test Vouchers

£129 towards glasses

Perks cashback hub

Provided workwear

Free hot/cold drinks

Colleague forum-Have your say

Monthly charity raffles

State of the art canteens with entertainment
​
Award-winning IGS: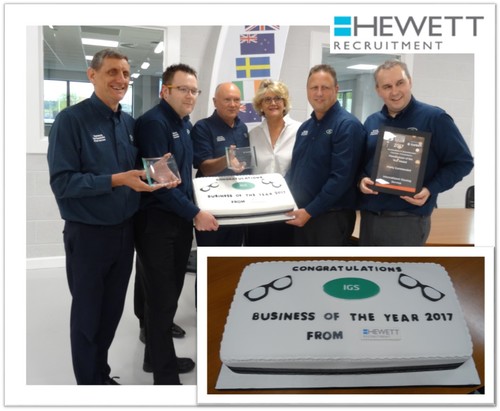 ​
Take a look inside IGS:

​
​​
Please contact Lisa, Sarah or Millie on 01562 69090 for more information.
​
Pay Rates:
IGS are "Real Living Wage" Employers, paying £9.50 – £11.40 per hour, depending on shift.
What you can expect as a temporary worker:
Clean and modern working environment

On the job training

Paid holiday

Uniform - so you really feel part of the team

Flexible shift patterns (allowances payable)
​
General Job Specs:
Optical Assembly Operative's Duties (but not limited to)-
Assembly of Optical Products.

Coating and Tinting of Optical Products

Picking & Packing products for dispatch.

Keeping work area clean and tidy

Ensuring that products are QC checked and finished to a high standard.

General warehouse/factory duties as and when required.

The company is accessible from Kidderminster, Stourport, Bewdley, Worcester, Stourbridge, Dudley, Tenbury Wells, however, if travelling outside of Kidderminster, own transport will be required as the client is not near a Train Station or Bus Route.
​
Already a temporary worker with Hewett Recruitment?
Are you a temp at IGS and needing some help? Contact our Industrial Team:
Office: 01562 69090

Out of Hours: 07815293256