Back to Blogs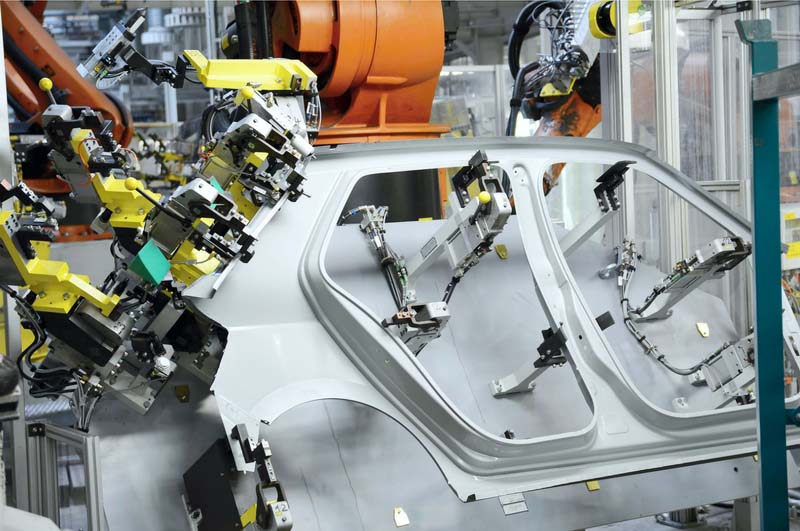 The Future of the Manufacturing Workforce
All industries are currently experiencing a dynamic shift due to the rapidly increasing pace of technological advancement, however, one key sector is going through a technology growth spurt that will have far reaching implications on the human workforce for generations to come. This revolution within manufacturing is commonly known as the 4th Industrial Revolution or Industry 4.0 where the mechanical and digital worlds are margining.
Current State of Manufacturing - According to the latest government figures manufacturing accounts for 8% of all employment in the UK with the industry providing £177bn to the Economy which is roughly about 10%. This is up on previous years and the increase can be attributed to several factors not least Brexit which has put off companies investing heavily outside the UK. The technological advancements in automation and digital assets has also increased in recent years reducing dependency on physical manpower and the profitability of outsourcing production overseas.
Despite the UKs being synonymous with quality products and excellence in manufacturing, ever increasing consumer demands has seen it challenged by countries such as China and India with their huge cost effective workforces and growing capability to produce quality goods.
As technologies continue to improve and reduce the need for traditional manual labour forces there is likely to be a balancing act between production and cost which could well push Britain back to the forefront. It should be noted, that this will only be achievable if the right investment in new technologies and more importantly new workforce skills is made sooner rather than later from Secondary education through to the workplace.
Future Changes and Advancements
So how will manufacturing change as a result of technology and will it really have the impact expected?
There have been industry revolutions in the past, for instance when electric first came in, or computers were first used or when we started introducing robots on the assembly line. Each time there was a discussion on how this would result in mass job losses but reality was it never really happened. With change comes opportunity and these revolutions acted as a catalyst for businesses to retrain and reshape the skills landscape of its workforce.
Industry 4.0 will see the merger of the physical and cyber connected worlds to lay the foundations of a future of a fully automated production industry. They key changes are most likely to occur in the following areas
Smart Factories – Machine to machine communication and continual analysis will allow manufacturers to ramp production up and down at the literally press of a button. Manufacturing and distribution facilities will operate on fully integrated communication networks reducing bottlenecks, overstocking of parts and other hindering factors.
Big Data – This will drive the systems, the collation of vast amounts of data for analysis will eventually be the root cause of the success of AI. For now companies can utilise this data to identify areas of process improvement, consumer demand and assess production capacity identifying areas for preventative maintenance and optimising production for seasonal demands well in advanced.
Automation – Came along in the 60's but with improvements in technology especially robotics its slowly starting to encroach on more traditionally manual humans roles.
Artificial Intelligence – Maybe still a long way off but smart programs running on basic forms of AI are already at work throughout the manufacturing industry. Many of the AI programs currently being worked on are still in Research & Development phases but over the next 10 year elements will start to be integrated into everyday working practices. This can be seen already happening in the legal industry with programs such as ROSS being implemented and proven to be more effective at correctly applying legal context than human lawyers in legal cases.
Challenges to Manufacturing Sector
Capital expenditure – With new technology comes cost, its likely there will be widening of gaps between SME and Large Manufacturer as the latter will be able to not only invest earlier but actively partake in early R&D of new systems that will ultimately benefit them.
Impact on Workforce – The UK is already in the middle of significant skills gap. Changes in Education and the shift to a service industry based economy over the last 20 years has left gaps particularly noticeable within the middle management tier of the engineering market. Although there have been positive steps taken with regards to securing and improving younger talent via apprenticeships and graduation schemes it's likely the real issues will occur once the skills gaps reaches the senior business level.
Technologies – Another major hurdle for UK manufacturing and engineering business is the identification of a whole new skill set for its workers. Where traditionally they may have been focussed on mechanical based disciplines the shift to 4.0 will see new requirements for IT skilled personnel to enter the production environment to implement manage and maintain the emerging systems in the sector. Again with skills shortages already affecting the IT sector with traditionally higher remuneration rates, there will need to be some significant compromise form manufacturing companies in order to attract this talent pool.
Impact on non-Engineering roles – Whilst it's easy to see a correlation between the furthering developments of automated technologies and the reduction in engineering manpower required, what is not often considered is the impact on non-technical staff. Reports suggested that Sales, Finance and Legal roles are at the most risk from displacement by AI, all of these play Signiant roles in a fully functioning engineering and manufacturing business.
Workforce Considerations for Industry 4.0
So where does the solution lie for UK based manufacturing companies moving into industry 4.0?
Every business will need a three stage approach to securing a relevant workforce for the move into 4.0 production.
Recruiting
With the current skills shortage there will always be an uphill battle for attracting new talent to the manufacturing sector. 4.0 will see an increase in the requirement to attract digital skills sets which until now have traditionally been outsourced by the majority of businesses in the sector. These include roles such as;
IT Solution Architects
Data Scientists
Software Engineers
Hardware & Network Engineers
UI/UX Developers
Cyber Security Managers
Increase in Contingent Labour
To combat the shortage there is likely to be an increase in use of contingent labour as the skill demand becomes more and more competitive and those working in this field will turn to the more lucrative contracting sector. This may also benefit the businesses where they only need individuals on a short term or project basis and help in reducing overall cost and having the skill on tap when required. The contingent talent can also be used to train and transfer knowledge to in house workers.
Increase in Graduates and Apprenticeships
The most cost effective way to gain the talent you are looking for in modern technologies is to ensure your apprenticeship and graduate schemes are working well. Companies should not just be engaging them via schemes but also working with local educational institutions to ensure those coming out into the employment market have been educated in the correct technologies for the local business landscape.
Improving your recruitment channels
In house – Do you have a dedicated in house recruitment function? if you're an SME you might need to give this consideration as finding the right skilled candidates in this current market of high employment is difficult and a full time job. If you have an in house recruitment function is it up to speed with your businesses latest technology? or are they screening good candidates out?
Outsourced – If you are outsourcing your recruitment to an agency have you chosen a specialist agency who covers your area of the industry? Do they have access to the local talent pool? An effective agency strategy will usually see you engaging a 2-3 different companies to approach each area of your business but if you cast your net wide you risk reducing the quality of candidates and engagement that can have negative effect on candidate experience with your business.
Retraining
Upskilling and retraining your workforce is the best way to ensure you are future ready and if done correctly will limit the need to recruit new people into your business. To do this effectively you will first need to be concrete on your technology pathways and where your business will be heading with new technology long term.
Secondly comes Employee engagement and identifying those with the potential to retrain in digital skills. Not only will this benefit the business by keeping the workforce relevant it also help in retention of your employees as they feel more valued knowing the investment you are making in them will open up avenues for progression.
Retaining
In the war for skills retention is everything and getting this aspect right will future proof your business. If you are heavily investing in recruitment and upskilling you need to be doubling that effort in your retention policies. Below are some of the key areas for retention in the modern market
Work life balance – Do you offer Flexible or remote working where possible?
Corporate Social Responsibilities – What is your business giving back to the community
Progression – Do you operate on a flat organisational structure with limited routes for progression?
Remuneration and benefits – Are they in keeping with the local market and your competition? Do they result in improvements in work life balance for your employees?
Technologies – Is your business using the latest technologies?
Summary
Industry 4.0 isn't a single event, it's happening now and every company is at a different stage. If you are not already approaching your workforce planning with the digital future in mind you are already at risk from falling behind. Ensure your manufacturing business remains relevant and competitive in tomorrow's market by investing heavily in your current and future employees now.
Hewett Recruitment
Here at Hewett we understand the importance of the progression of future technologies within Engineering. Our specialist Engineering and IT recruitment teams work closely together to ensure we are tracking the market and engaging the best talent for our clients particularly in cross over areas between IT and Engineering. We provide Permanent, Contract and Temporary recruitment covering most aspects of IT and Engineering.
To discuss any future requirements your engineering or manufacturing business has please contact your Technical Division on 01905 613 413.