Back to Blogs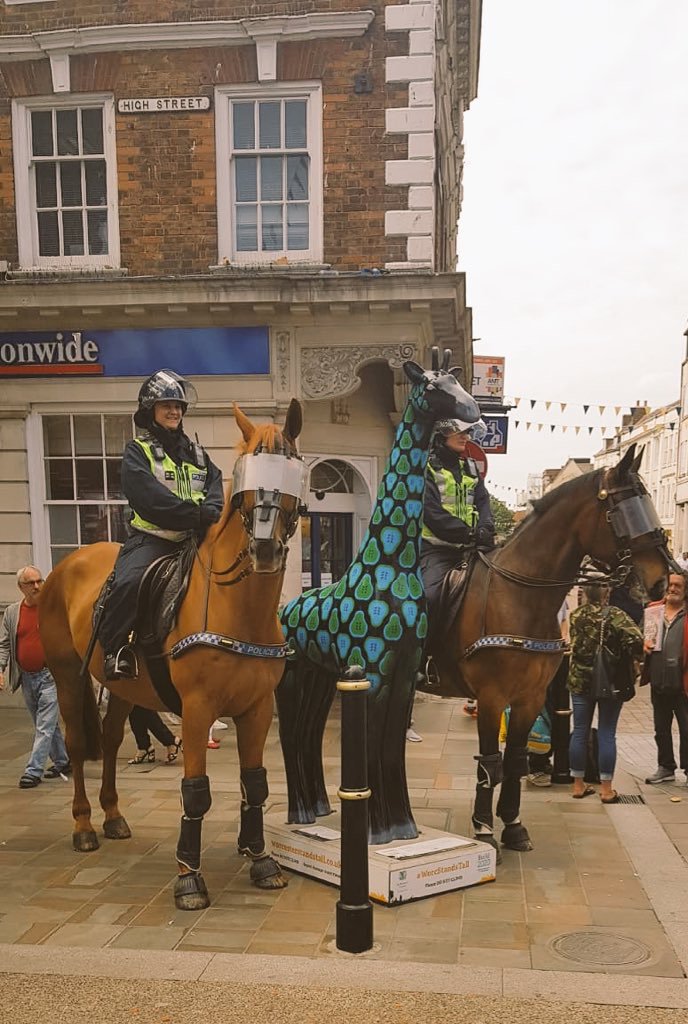 Goodbye Gregory! Worcester Stands Tall Comes To An End
As the St Richard's Worcester Stands Tall Art Trail comes to an end, Hewett Recruitment take the opportunity to reminisce over the trail's highlights throughout the summer. We've adored seeing Gregory bring joy and happiness to 'The Cross' on Worcester High Street for the past 10 weeks – he's had humongous amounts of love and support from the Worcester residents and visitors.
As a supporter and patron of St Richard's Hospice, Louise naturally felt it important to support this wonderful event. The art trail also held personal significance, viewing it as a tribute to her late parents - Doris and Gregory Meacheam (whom she named our sponsored Giraffe after). Louise explained "Mum and Dad lived in Africa for many years and the giraffe reminded me of my Mother's words when I was a child and felt rather self-conscious of being taller than my peers… she would play me a very old song by Val Doonican called 'Walk Tall'. My parents instilled the values that guide me, my business and my family … Stand tall, be kind, be strong and give back to the community around you."
Gregory's design was created by the very talented local artist Suzie Hunt. The design reflects the Worcester Pear which acts as a symbol for the city, appearing on its flag and signposts. Hewett Recruitment were delighted to work with Suzie, feeling she's "a wonderful example of home grown talent."
Gregory's arrival to the Worcester Stands Tall Art Trail:
July saw the arrival of Gregory, a very exciting time for Hewett Recruitment and Worcester residents. The Giraffes lit up the streets of Worcester, bringing with them joy, conversation and lots of pictures! To encourage engagement and participation in the event, Hewett Recruitment launched our very own competition, encouraging those passing Gregory to stop, smile and snap a picture! We had lots of fantastic submissions – they're available to view on our YouTube Channel. (The winners are to be announced shortly!)
​
​
Unfortunately, Mid July, amidst the summer heat and world-cup excitement, our lovely Gregory was injured. Naturally, the Hewett's team were devastated by the sad news. However, the support Gregory received on social media was overwhelming! We can't thank all of the well-wishers enough; they boosted morale and strengthened the community spirit all while supporting St Richard's Hospice Build 2020, a truly magnificent charitable cause, by simply honouring Gregory!
'Outcry over vandalism shows Worcester has fallen in love with giraffes' - Worcester News
However, every cloud has a silver lining! We were graced with the presence of Dave – the glorious dinosaur placed on Gregory's then empty plinth by local coffee shop. He really put a smile on our faces!
Dave the Dinosaur is keeping people smiling on the Cross, Worcester, after Gregory the giraffe is damaged' - Worcester News.
A short week later, thanks to JMB Polishers in Pershore, Gregory was back up on his feet looking better than ever, standing tall in the Worcester Sun.

It's been an honour to be a part of such an inspiring and successful community charity event- Gregory will forever have a place in the hearts of the Hewett's team. We look forward to meeting his highest bidder at the live auction in October!
Don't forget to show your support and Donate towards the Build 2020 Appeal
Visit the beautiful sculptures one last time at the Worcester Stands Tall 'Farewell Event' at Worcester Cathedral.