Back to Blogs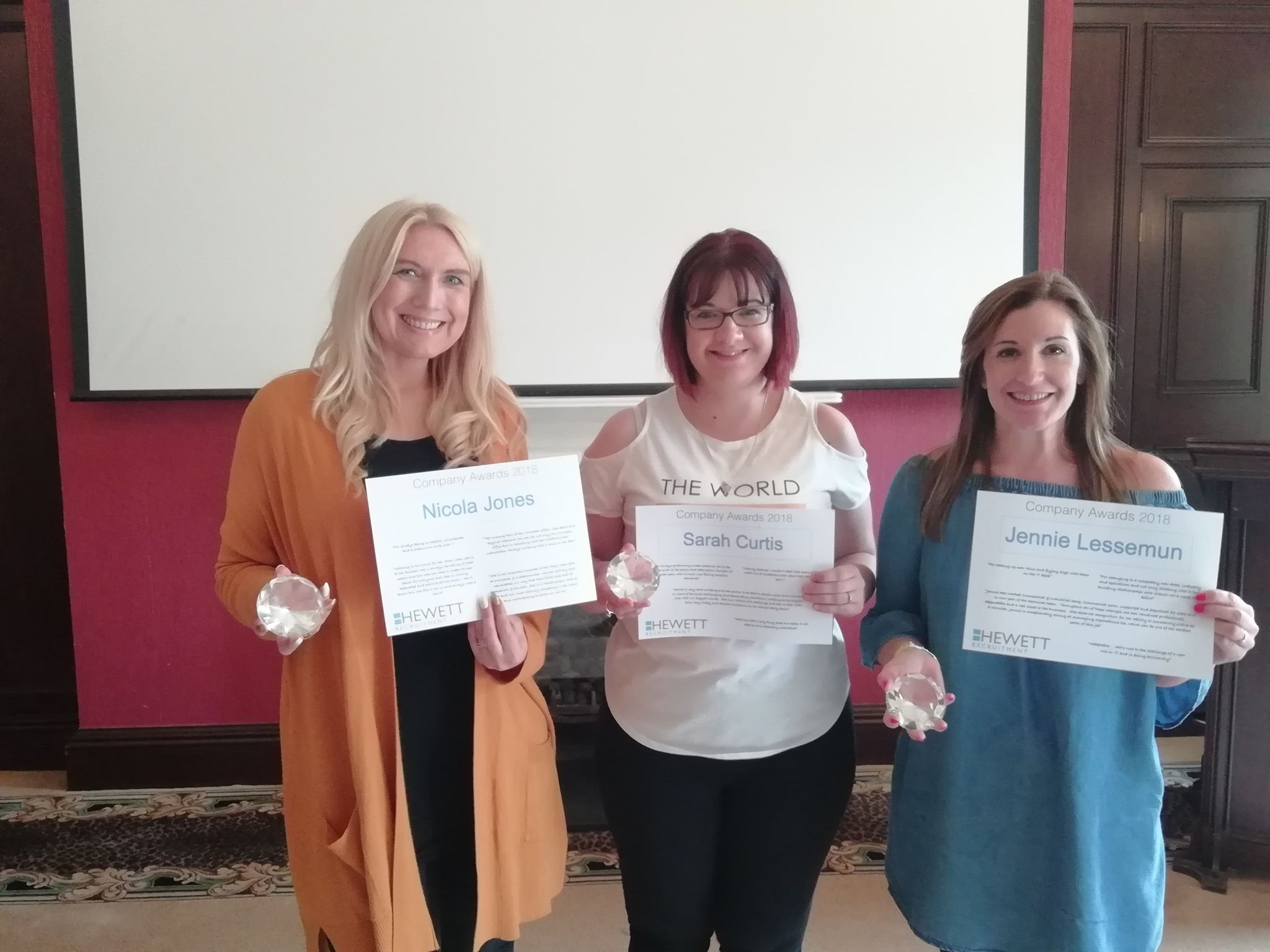 At Hewett Recruitment we are proud of our dedicated and professional staff. Therefore we host annual 'Company Awards' which takes place on our 'family fun day' at West Midlands Safari Park. The awards see staff anonymously nominate their fellow colleagues for their outstanding work.
2018's Winners were…
*Drumroll*
Sarah Curtis, Industrial Consultant
Sarah has been with Hewett Recruitment for 9 years, starting out as a temp before being recruited to join the industrial team.
Some of the comments from Sarah's anonymous nominations include:
"For always performing under pressure, she is the first to pick up the phone and take action, but part of a great team with Di and Lisa filling massive demands"
"Sarah is very hard working and has proven to be able to remain calm and collected in some of the most challenging and demanding situations, working at the highest level with our biggest clients. She isn't afraid of a challenge and has to deal with some very tricky and delicate situations on an almost daily basis!"
"Dealing with a very busy desk but keeps a cool head and is extremely methodical"
Jennie Lessemun, IT Consultant
With 10 years of service at Hewett Recruitment, Jennie previously working on the commercial desk before transferring over to the IT team this year.
"For taking up new reins and flying high with them on the IT desk"
"For changing to a completely new desk, industry and specialism and not only sticking with it but building relationships with clients we've never had before"
"Jennie has worked Commercial & Industrial temp, Commercial perm, supported and deputised for Kate and is now part of the technical team. Throughout all of these changes she has remained professional, dependable and a real asset to the business. She deserves recognition for her ability to constantly evolve as a recruiter. Jennie is exceptionally strong at managing expectations too, which can be one of the hardest parts of this job".
"Adaptable ... she's rose to the challenge of a new role in IT and is doing brilliantly"
Steven Harris, Engineering Consultant
Ste has recently been promoted from engineering resource to a fully-fledged consultant.
"For always being a helping hand when you need him. He is such a friendly and caring person to have in the office. He will always help you out with finding a suitable candidate and explaining a job spec to you if you are unsure".
"I feel he has fitted into the team well, really knows his stuff and goes the extra mile to deliver the goods !!
"He is always positive and happy and I'm sure this helps him keeps focus in a challenging market. His knowledge has clearly increased greatly and he is now just as confident dealing with clients as he is candidates (which, by the way, he also meets and registers in person regularly!!). "
"Such a pleasant guy to have in the office- he is new to the team but he really makes an effort to integrate himself. He is dedicated and hardworking, often working after hours to get candidates across to clients. He is a pleasure to work with and a great laugh! "
Nicola Jones
"For always being so helpful, considerate and a pleasure to work with !!"
"The unsung hero of the Worcester office. Goes above and beyond whenever she can for not only the Worcester office but in assisting with the Kidderminster industrials. Always working with a smile on her face"
"Nothing is too much for her. Even when she is at her busiest, she is always thinking of other people and how she can help to make things easier for everyone else! She is willing, dedicated and positive all the time!! I don't know how she fits it all in and always with a smile"
"She is an important member of the Temp Team both at Worcester & Kidderminster- she has actively sent candidates our way. She is a Hewett person, both at work and out, most recently competing in the Colour Run contributing towards our 40/40."
​
To celebrate, the winners will be attending a 'winners meal' in the coming weeks! Congratulations to them all. We're extremely proud of each and every member of staff's daily contributions to making Hewett Recruitment a success.