Back to Blogs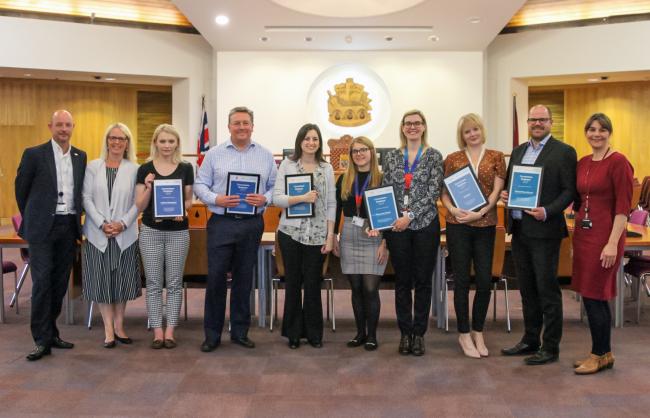 We join forces to help students prepare for the world of work
A GROUP of businesses from Worcestershire have joined forces to help prepare young people in the county for the world of work.
Hewett Recruitment, ludlowthompson, Yamazaki Mazak UK Ltd, Southco, The Community Housing Group and Worcester Bosch have partnered with The Careers & Enterprise Company and the Worcestershire Local Enterprise Partnership to become a 'Cornerstone Employer' in the Worcestershire Hub.
As part of the commitment, the firms will invest time and resources to support local schools and colleges with their careers education and with inspiring young people.
Together they have pledged to ensure that all young people across the region have access to regular, meaningful engagement with employers reflecting the priority sectors in the Worcestershire Hub and gain the work experience they need to help them make informed choices about their futures.
Cornerstone Employers act as champions to encourage new businesses in the area to get involved in supporting schools and colleges, as well as encouraging their own staff to become volunteer 'Enterprise Advisers'.
Ben Mannion, Chair of the Future Skills Board at Hewett Recruitment said: "Hewett Recruitment was built on a foundation of always giving something back, whilst we also acknowledge the importance of the business community supporting and encouraging the development of skills to support the future success of Worcestershire.
"As Chair of the Future Skills Board, I was involved in helping secure Career Hub status for Worcestershire which we see as a real game changer in terms of careers guidance and support across the county."
Claudia Harris, CEO at The Careers & Enterprise Company, said: "We are delighted to have these six employers committing to helping schools and colleges in the Worcestershire Hub.
"All young people deserve great careers education, to inspire them, support their aspirations and prepare them for the fast-changing world of work.
"Employers need to be at heart of that, so young people can learn first-hand about the careers and industries that are open to them.
"We are very grateful to all the employers for their ongoing support and commitment to helping young people in the area prepare for their future careers."
---