Back to Blogs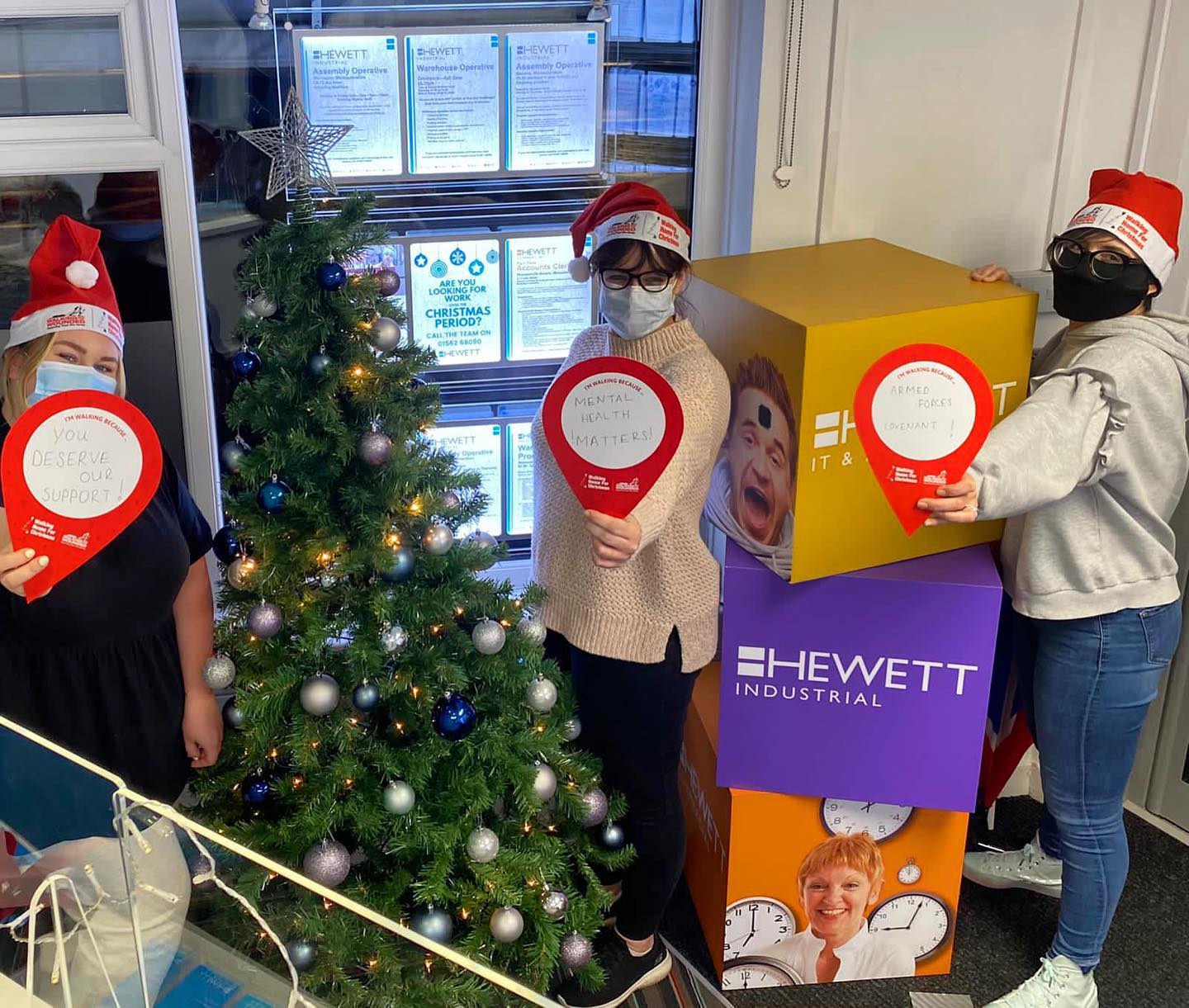 Hewett Walks Home for Christmas
A team of colleagues from Hewett Recruitment, based in Kidderminster, are walking a collective total of 250 miles between 10-20 December as part of Walking With The Wounded's national campaign, 'Walking Home For Christmas' to support ex-servicemen and women who are alone this Christmas.
Strategic Marketing Executive Verity Hudson said: "As a forces-friendly employer who have recently signing our pledge for the Armed Forces Covenant, Hewett Recruitment are excited to be participating in this years 'Walking Home for Christmas' event. We know what a huge challenge mental illhealth can be and we really want to support our ex-military by raising funds, all while bettering our own wellbeing by getting outdoors and maintaining a healthy work-life balance".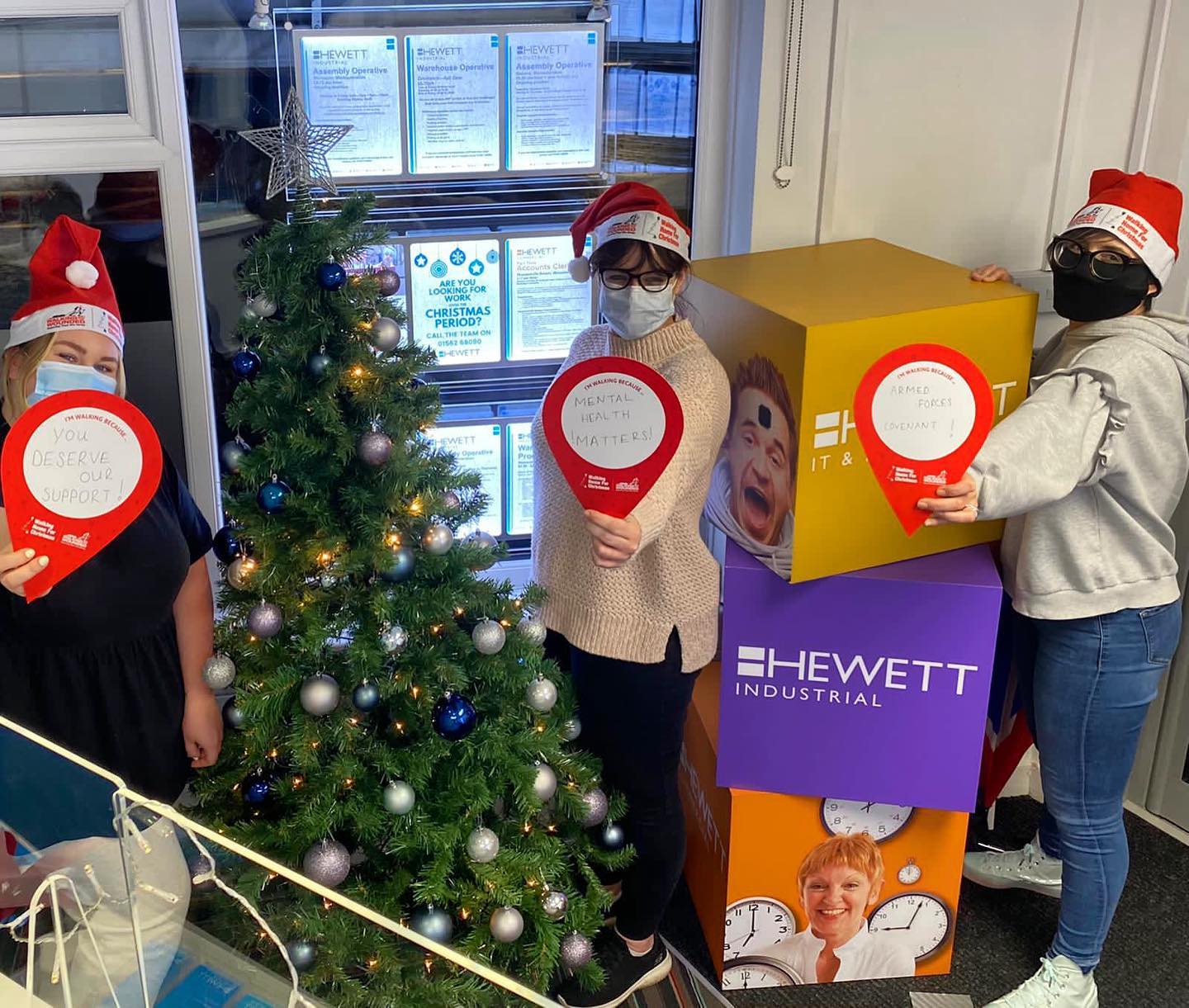 Hewett Recruitment Worcestershire team raise funds for Walking with the Wounded in 'Walking Home for Christmas' challenge
Comedian Al Murray and WW2 Historian James Holland have challenged the UK public to supply their best military jokes and banter to help support Walking With The Wounded's Walking Home For Christmas campaign – to support ex-military facing mental health battles.
The major fundraising drive is the Charity's only event this year. It challenges the general public to step out of their comfort zone and to walk somewhere important to them in support of Britain's ex-military. Taking place from Thursday 10th to Sunday 20th December, the challenge is the perfect way to beat lockdown blues while obeying local Covid-19 restrictions.
Al Murray and James Holland
They will be taking on their own epic walk in December that will involve one of the most therapeutic remedies for mental health - banter! Walking and talking is good for the soul, but add a bit of military banter into the mix and you are laughing!
This year, we've been locked down, but we can get up again. Walking Home For Christmas encourages us all to get out, embrace the spirit of Christmas and serve those who served us.
Al Murray said "I would love for the British public to join me and walk. Yes, walk, it's as simple as that. Joining Walking Home for Christmas and doing a sponsored walk will help in raising money for ex-military and their families dealing with mental health issues that have been even more challenging, with the strange Covid-19 times we find ourselves in. Myself and WW2 historian James Holland would love to hear your military jokes, stories and banter that we can read out on our walk together on our We Have Ways of Making You Talk podcast. The challenge is yours, between Thurs 10 and Sun 20 Dec for Walking With The Wounded. Sign up below. Good luck and get walking."
James Holland added, "It's an honour to be involved with Walking Home For Christmas this year and it's extremely important to shine a spotlight on the importance of our mental health as well as our military veterans. I'm a big fan of walking the ground and I'm hoping that the military jokes and banter you provide will put a smile on my face, as well as Al's! With another lockdown being implemented, getting out and walking is a great way to unwind and clear your head. So, do it for a good cause and support Walking Home For Christmas."
The campaign invites anyone to register for free, receive a branded Santa hat and facemask and do a sponsored walk home, somewhere important to them anytime between 10th -20th December.
The event is aiming to support 200 ex-servicemen and women who are socially isolated, struggling with their mental health, homeless or caught in police custody as a result of poor mental health – and get them back into employment and independence.
Signing up for Walking Home for Christmas is easy and free – just log on to www.walkinghomeforchristmas.com and register for your fundraising pack.