Back to Blogs
Hewett announce annual partnership with St Paul's Hostel
​Hewett Recruitment have recently announced they have selected St Pauls Hostel as their charity of the year for the 22/23 financial year. The two organisations have agreed to partner for 12 months, with the local recruitment company dedicating all fundraising efforts to St Paul's to ensure maximum impact.
Supporting local charitable organisations has always been an important part of Hewett Recruitment's commitment to the community. Following a recent MBO, Hewett Recruitment is now owned by Laura Hewett and Ben Mannion and the two Directors are determined that this contribution continues as the business evolves.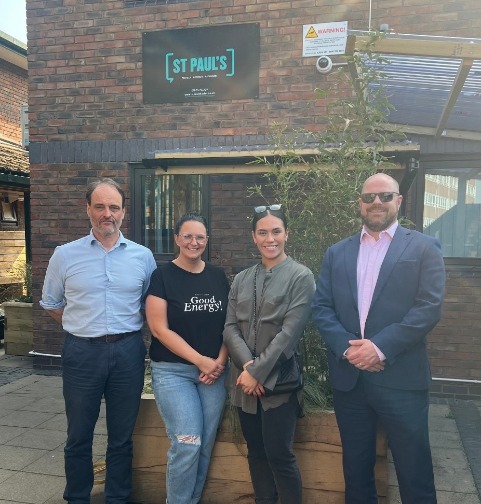 ​
Laura commented "St Paul's is an incredibly proactive local charity, helping people get out of homelessness, then back on their feet and into employment. We felt this was a really good match for us as we can not only raise funds, but also utilise our skills to volunteer, helping with employability skills and support".
Ben added "Jonathan Sutton and the team at St Paul's play a key role in supporting vulnerable people in the local area. Hewett are delighted to be able to support the charity in various ways over the next 12 months, including employability training, voluntary hours for maintenance activities, support with recruitment and of course, awareness and fundraising support."
Jonathan Sutton CEO, St Paul's commented "We are tremendously lucky to have a unique opportunity that brings together Hewett Recruitment's unparalleled expertise, their networks and an infectious can-do culture to help people live through homelessness."
For more information regarding the charity, visit the St Paul's website here.