Back to Blogs
Supporting Carers in the Labour Market
Carers and the Labour Market, by Laura Hewett.
This blog was created with both the employer and the employee who is a carer in mind, with the intention of making the information useful for everyone.
Topics discussed by Laura Hewett, Owner & Director:
What's going on in the labour market, indicating the significant pressure that companies are under from the near full employment and skills shortage

The post-pandemic shift in attitudes to work - specifically work-life balance that employees are demanding.

The opportunity this presents for carers, more than ever before to secure the flexibility and understanding they need

How to make that happen
"The labour market has been tightening for months on end, driving near-record growth in starting salaries for new staff. With vacancy numbers also historically high, this is a great time to be looking for a job – and a pay rise to help meet the rising cost of living."

"Employers need to get their offer to candidates right if they are going to succeed in this market. Enhancing diversity and inclusion, and effective early career hiring are also important elements of a winning approach."
This quote from Neil Carberry in the April REC Report is such a good summary of what is happening right now – skills shortage, candidates being more demanding; companies having to respond to be able to secure any talent, improving diversity and inclusion, becoming a key tool to unlock access to a wider pool of candidates.
Diversity has been on the radar for years, but in reality for most companies, when they were looking to hire, the path of least resistance was to hire full time, office-based people as they always had. However, now those people are nowhere to be seen, diversity and inclusion is no longer something altruistic that business owners aspired to… it's a non-negotiable. Companies need to look in places they have never looked before and be more flexible than ever before to fill the roles.
​
​
This first graph from the REC shows the number of job vacancies in the UK and the % year on year change. Not much commentary needed on this one, you can clearly see how much higher these figures are now, than they have ever been. This is a really useful chart for carers themselves to see, giving them confidence that there is a lot of choice out there and if in the past they have struggled to find something suitable… now really is the best time to be looking for a new job!
​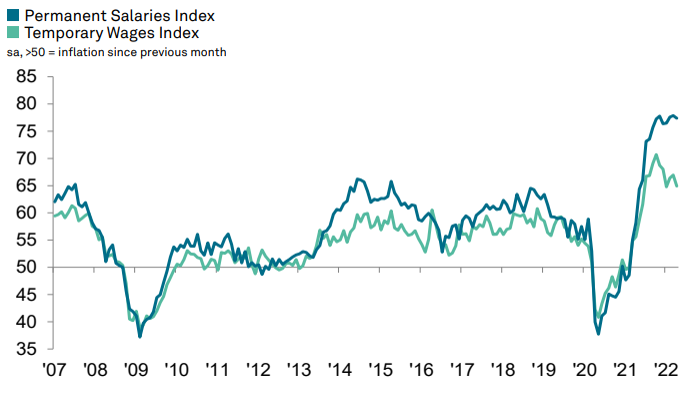 The next graph shows how salaries have increased in response to the increased competition. Now – for "salaries" read compensation, benefits, flexibility, annual leave… whatever people want! Yes, companies have increased salary significantly, but they also increase everything else in relation to the package offered – to stand up to the competition.
​
Candidates are rethinking how they choose an employer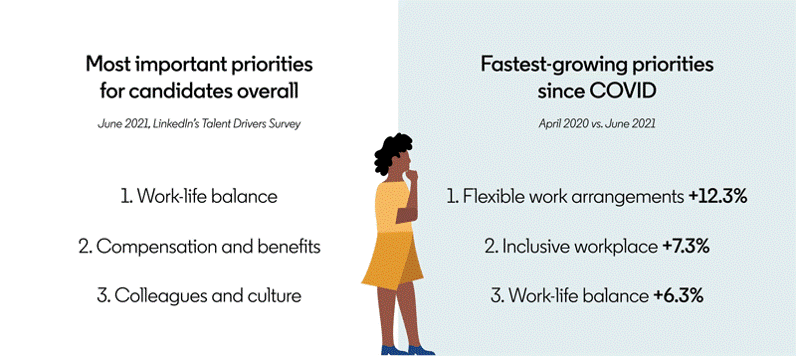 Recent Linkedin research shows what employees say their priorities are and also which are seeing the greatest increase compared to a year before. Work-life balance is coming in at number one, with flexible working having the largest increase year on year. Remember, this is for all workers – men and women of different ages and life-stages. Flexibility and work-life balance are no longer things that just carers and mums request.
This is due to the impact of the pandemic really shifting people's attitudes to work:
For some it was the opportunity to take stock and realise that we don't live to work… there is more to life. Whether the pandemic gave them more free time, or time to spend caring for loved ones, this is not something they are prepared to give up

For others, they had to work from home and as tech quickly showed that this was as efficient and effective… people simply refusing to rejoin the rat race and want to maintain home-working a few days a week
Whatever the reason for specific individuals, it seems that most people have decided that flexibility for them needs to stay.
Timewise research shows that 9 out of 10 people want to work flexibly. Yes, it is one of the best facilitators of diversity and inclusion. But the key thing is that if 9 out of 10 people want it, 9 out of 10 companies need to provide it!
​
Flexible working and it's relevance for carers in the workplace.
To compare figures over time, I took a look back at some research we at Hewett ran with Timewise back in 2018. Timewise is a not-for-profit consultancy that helps businesses become inclusive. The research we commissioned was to look at the number of quality jobs advertised across Worcestershire as "flexible". Back then it was just 11.1% on average, which was about in line with the national average, which was at 13%. So I was excited to see where this figure is now, given everything we know about the impact of the skills shortage and the pandemic: 26%
So a really big (14.9%) improvement. However, given the different world we are living in now, I was expecting more like 60-70%.
​
This is something that employers need to look at in terms of their approach to advertising. It is a sure fire way to secure an increase in the number of job applications. However, I wouldn't say that carers should assume that only 25% of roles actually offer flexibility. From our experience in the local market, more often than not, if we have a role we are working on that initially the recruiting manager says is full time, sure enough if we put a really strong CV in front of them and state the hours they can commit to, we can get that person placed.
​
This is also evident from statistics from our Salary & Benefits Survey conducted towards the end of 2021, which shows that in Herefordshire & Worcestershire, over 80% of businesses claim to be offering flexible working – indicating that employers are not clearly highlighting heir flexibility in their job adverts.
So the advice I would give to carers would be to apply to roles that they have the skills and experience for and not to assume that flexible jobs will necessarily be advertised as such.
And my advice to employers is to really clearly and specifically include details of what flexibility can be offered (or not offered) in job adverts from the outset
​
Timewise Manifesto for change:
Leaders must provoke cultural change – challenge the status quo

Flexible working to be gender neutral – emphasise the value of male and female role models

Design flexibility into jobs as standard – ask "why not" rather than "why"

Influence the attitudes and actions of managers – provide them with permission and support

Collect the data – measure the success of flexible working
This is useful for any organisation not yet fully embedded with effective flexible working, or if it is sporadic across different departments.
So, change has to come from the top, of course. It needs to apply to everyone equally.
Design flexibility into jobs as standard – ask "why not" rather than "why"

Line managers can be a key enabler or blocker – so we really need to engage them and address any concerns they have

And of course, Collect the data – measure the success of flexible working and that will help to convince any stragglers!
This is just the headlines of course and there is a lot more information available on this directly from Timewise, if there are any companies or organisations that do need some support in making these changes, especially now that we know the employment bill is delayed.
​
It's a real shame that the Employment Bill was missed from the Queen's Speech recently, as we know this would have meant that companies would need to give the employee the right the request flexibility from day 1, rather than waiting 26 weeks and 1week unpaid carers leave. However, all is not lost – there is a potential benefit that the delay will mean that the Bill can be improved to be more fit for purpose, by putting increased onus on businesses to offer jobs as flexible from day 1, rather than just giving the candidate the right to request from day 1 (especially as 1 in 3 requests are currently declined, a figure which is likely to be higher at day 1). So that would straight away talk to points 2, 3 and 4 as it would be in legislation.
​
What is the current situation?
Let's assume that either a carer applies for a beautifully written advert explaining flexibility options - or they apply anyway to a job that doesn't state it in the advert, but actually does offer it, and they get the job - What's next? What is it really like for them when they get in there?
As I mentioned earlier, it's not just salary and flexiwork options that have increased in the last two years… it's all benefits! Employee benefits ]companies are seeing great recruitment at the momen. But the best thing is that now, more than we have ever seen before is the focus from businesses on employee wellbeing – more are offering healthcare cash-plans, access to an Employee Assistance Programme, access to counselling and CBT services, mental health first aiders in the workplace. All of which make the workplace a more welcoming and supportive place for carers.
So these are the things as employers, we can promote to show ourselves as 'carer-friendly'. Again – they are there because everyone needs them, but carers can really benefit.
​
The labour market has seen a shift in the balance of power
So, I think a fairly clear way of demonstrating what is happening in the labour market at the moment is a real shift in the balance of power between employers and employees. The scale has tipped to offer employees more power. Nonetheless, it's really important that both employees and employers work together – the perfect balance is where each party acts in the adult ego state, clearly stating what they can offer and what they need, as well as where they can flex.
Listening to the other party and trying to accommodate where possible – both ways. That makes for harmony in any relationship, avoiding anyone trying to win power of any other party or being submissive. And everyone is responsible for fostering a culture of open, adult conversations in a respectful way.
So to summarise, I think that now is the time when carers can feel most confident in finding a job (or altering their current employment) to meet their caring needs. The market is driving this wave of changes that carers can ride on the back of, so seize the opportunity.
And for employers – lots of companies are doing really well with this agenda and rising to the challenge, but some have lots still to do. It's not all about giving more, but also improving communication and developing a more inclusive and engaging culture for all employees.​