Back to Blogs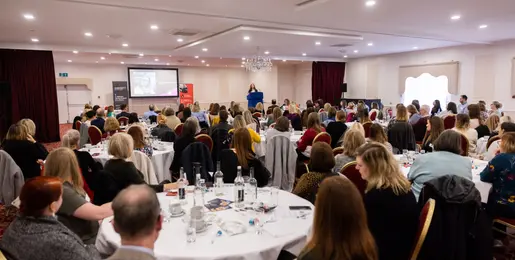 Annual HR Professionals Conference
​On Thursday 10 November, Hewett Recruitment, in partnership with Herefordshire & Worcestershire Chamber of Commerce, held their annual HR Professionals' Conference at the Bank House Hotel, Worcester.
With 115 guests in attendance, the event was the perfect opportunity for HR professionals from across Herefordshire and Worcestershire to network with peers and enjoy talks from a number of professionals in the industry.
Following an opportunity to network while registering, attendees were welcomed to the event by Sharon Smith, CEO of Herefordshire & Worcestershire Chamber of Commerce and Laura Hewett, Owner and Director at Hewett Recruitment, who also gave an update on the recruitment market.
The floor was handed over to Sally Morris, Partner at mfg Solicitors heading up the Employment Law and HR Services team. Sally spoke to guests about the Employment Law Update, providing insight and support to the HR representatives in the room who will need to implement these changes within their own teams and businesses.
Gail Hatfield, Group People Director at Kimal PLC, joined the roster of speakers as she gave a presentation on the 'Total Employee Experience'. This presentation provided attendees with some fantastic real-world tips for helping to improve the way employees feel about their workplace. Gail provided insights into how employees could be supported to feel valued and engaged in the workplace. Guests were provided with the slides from this presentation, and all others, so that they could take these important tips and ideas back to their workplaces.
From Design in the Shires, Claire Wozencroft attended to share how the company puts the wellbeing of the workforce at the heart of everything they do. Sharing her own story, and that of Founder, Jessica Williams, Claire spoke about the initiatives they employ to help support their team's wellbeing, and how important this is to the company as a whole.
Before the event, guests were encouraged to bring along a Christmas box to contribute to the Shoebox appeal organised by St Paul's Hostel. It was moving to see how many donations were brought along to the event, and the guests were able to hear from Jonathan Sutton, CEO of St Paul's Hostel, all about how their support could help. St Paul's Hostel is a charity that aims to help people live through homelessness in order that they have a place where they belong.
Pamaljit (Pam) Sangha, HR Manager at Doncasters Group, was the final speaker of the day, and she shared her experiences of being a HR Manager. Pam specifically focused on the journey and how this had changed over the years.
Guests were able to enjoy some final networking, confirming the new relationships and connections they had made at the event before the conference came to a close.
Laura Hewett, Owner & Director at Hewett Recruitment commented "Our annual HR Conference in partnership with the HW Chamber of Commerce was a great success again this year. With over 100 HR professionals in attendance and a fascinating line-up of speakers – there was a really supportive and positive vibe in the room. I think everyone took away lots of actions to add to the 'to-do' list as well as building their network of people to bounce ideas off. We love running the HR Conference and we are already thinking ahead to next year's event!"
The HR Professionals' Conference is organised in partnership with the Herefordshire & Worcestershire Chamber of Commerce and forms part of a series of events held throughout the year, including HR Forums. These events are ideal for HR professionals to attend, meet like-minded peers and gain useful knowledge about the industry.
All of the Chamber events, including industry-specific forums and conferences, can be found on the Events and Training Calendar.
​
​For more information about future HR Events, get in touch below.