Back to Blogs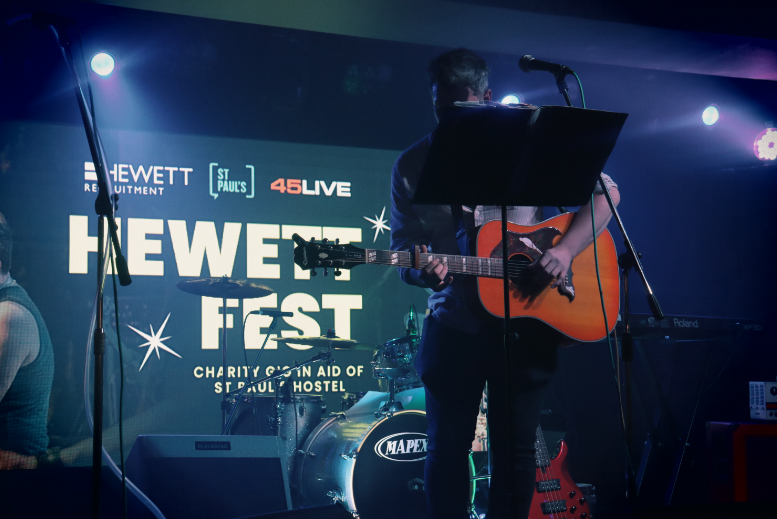 'Hewett Fest' Success for St Paul's Hostel
Hewett Recruitment are delighted to share their recent charity live music night, 'Hewett Fest', hosted in Kidderminster's 45 Live Venue, was a great success. The event was to raise money for the Recruitment Agencies 'Charity of the Year', St Pauls Hostel - a local homeless charity.
The evening was made up of three Worcestershire based artists: Charlie Davis, an acoustic singer, 'HotFlush' a pop/rock cover band and our headline act, 'The Jukebox Jems'.
From pre-ordered tickets, tickets on the door and a collection on the evening, Hewett Recruitment raised a grand total of £1,518 for St Paul's Hostel.
​
Annamarie Brant, Fundraising Manager said, "It has been an absolute honour to have been working with Hewett Recruitment over the last 12 months as their chosen Charity of the Year. The support St Paul's has been given is beyond measure; from Skills workshops for residents, painting residents rooms, employer connections, assistance and advice with recruitment, donations of gifts in our Christmas Shoe Box appeal meant that every residents received a Christmas Gift; only to be topped off by a fabulous live music festival on Friday 10th February at 45Live Kidderminster.
A number of St Paul's staff, families and friends attended what was a fabulous evening. The live bands were outstanding, the atmosphere was tangible, and the venue was perfect. On behalf of the Trustees, staff, volunteers and most importantly, the residents, I would like to express our sincere and heartfelt thanks to every at Hewett Recruitment for going above and beyond to support the charity. A fabulous team with the biggest hearts! Thank you all so much"
​
Laura Hewett, Director and Owner at Hewett Recruitment commented:
"We have loved working with St Pauls Hostel as our charity of the year and it has been fascinating to learn more about how they work. It's not as simple as just getting people off the streets - the team at St Pauls are really well informed about the reasons causing homelessness, such as childhood trauma and addiction. This knowledge and training makes them better equipped to understand the people they are working with and puts them in a much better position to be able to support them for the long term.
For us as a business and our team, our year with St Pauls has been humbling, rewarding… and a lot of fun! It has been great to be able to support in so many different ways - through event sponsorship; fundraising; awareness raising and more practically – being hands-on helping the residents. Thank you for having us St Pauls!"
​
​For more information about St Paul's Hostel, visit: https://stpaulshostel.co.uk/