Back to Blogs
Hewett Recruitment earns B Corp status
Local Recruitment Business, Hewet Recruitment, has announced its certification as a B Corporation (or B Corp), joining group of less than 50 companies across the Three Counties who are reinventing business by pursuing purpose as well as profit.
Hewett Recruitment has been certified by B Lab, the not-for-profit behind the B Corp movement, as having met rigorous social and environmental standards which represent its commitment to goals outside of shareholder profit.
The B Corp certification addresses the entirety of a business' operations and covers five key impact areas of Governance, Workers, Community, Environment and Customers. The certification process is rigorous, with evidence required of socially and environmentally responsible practices relating to energy supplies, waste and water use, worker compensation, diversity and corporate transparency. To complete the certification, the company will legally embed their commitment to purpose beyond profit in their company articles.
​
​
One noteworthy aspect of Hewett Recruitment's journey to B Corp certification is its active involvement in the local community. The Hewett Recruitment team has made significant contributions through school and career events, voluntary activities, and charitable efforts. Impressively, 85% of Hewett Recruitment employees have participated in these voluntary activities, amassing over 400 hours in total.
Laura Hewett and Ben Mannion, Directors and Owners of Hewett Recruitment commented "We have always felt it very important that Hewett Recruitment supported and gave back to the community around us. As business owners our own personal values really echo the sentiment of "doing business for good" so BCorp Certification was a natural fit for us. Not only did it allow us to document all the great things we already do…but is also shined a light on where we could improve and make changes, ultimately making us a better business."
​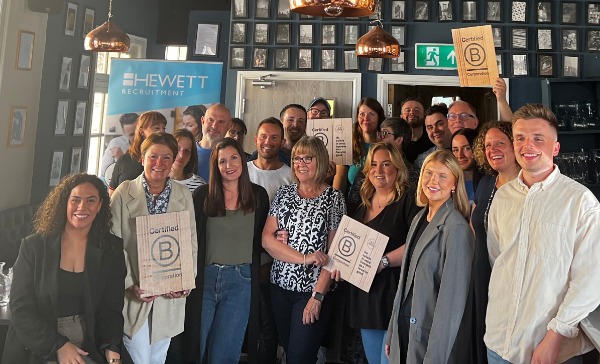 ​
Hewett Recruitment is now part of a community of 7,000 businesses globally who have certified as B Corps. The B Corp community in the UK, representing a broad cross section of industries and sizes, comprises over 1,500 companies and include well-known brands such as The Guardian, innocent, Patagonia, The Body Shop and organic food pioneers Abel & Cole.
Hewett Recruitment's B Corp certification underscores its commitment to greater accountability and transparency within the recruitment sector. In an industry centered around people, Hewett Recruitment believe it is right that these values are central to all the business is looking to achieve.
​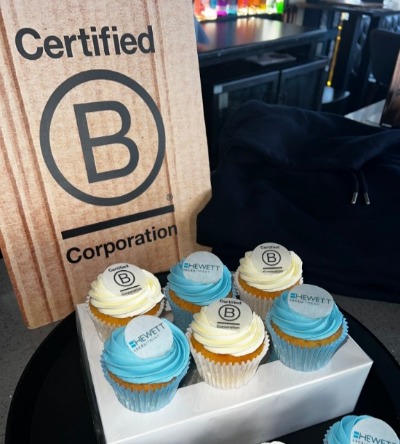 ​
Chris Turner, Executive Director of B Lab UK, says "We are delighted to welcome Hewett Recruitment to the B Corp community. This is a movement of companies who are committed to changing how business operates and believe business really can be a force for good. We know that Hewett Recruitment are going to be a fantastic addition to the community and will continue driving the conversation forward".
"We are pleased to have B Corps of all shapes and sizes as part of our community – from startups to multinationals and across many different industries. Business is a powerful force and B Corps demonstrate that you can do good in any sector. Welcoming Hewett Recruitment is an exciting moment because they have an opportunity to lead the way within the recruitment industry. We and the rest of the B Corp community are really pleased to support Hewett Recruitment in paving the way for a new way of doing things".
"Being able to welcome Hewett to the B Corp community is hugely exciting. Their commitment to doing business differently will be an inspiration to others and really help spread the idea that we can redefine success in business to be as much about people and planet as it is about profit".
​
In summary, the addition of Hewett Recruitment to the B Corp community is a significant and exciting development. Their dedication to conducting business differently serves as an inspiration to others, promoting the idea that success in business should be as much about people and the planet as it is about profit.
​
Director and Owner at Hewett Recruitment, Laura Hewett, has joined forces with 'Real World Consultancy' to create a forum for B Corp UKorganisations across the three counties (Worcestershire, Herefordshire and Gloucestershire) to share ideas, exchange knowledge and build meaningful partnerships with like-minded businesses.
If you are a Bcorp organisation please sign up or find out more here.