Back to Blogs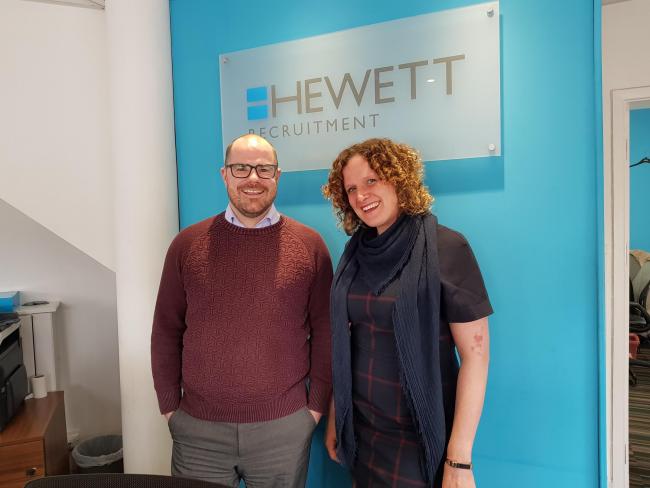 Behind the Business: Hewett Recruitment
What go's on behind the scenes at Hewett Recruitment?
Laura Hewett and Ben Mannion, Directors at Hewett Recruitment, have been friends since they were children and say teamwork and friendship are key elements to business success.
Hewett Recruitment was set up in 1980 by Laura's mum Louise and has sites in both Worcester and Kidderminster. Laura did not go into the family business immediately, working in London for video game publisher EA before coming to Hewett in 2013 initially as a specialist in IT recruitment before becoming a Director in 2015.
She said: "I wanted to get experience as a businesswoman in my own right before coming into the family business so once I had finished at EA it was the right time to step in here and learn the Recruitment industry.
"Ben and I run the business day to day, but Louise is still very much involved, mentoring us and setting the strategy on where to take the business."
Worcestershire native Ben has been working in recruitment for nearly 15 years after studying Economics at the University of Cambridge before joining Hewett in 2009. He said: "I had a background in IT recruitment and Louise was keen to move the business in that direction at the time so it was a natural fit. Laura and I were born just a few days apart and our friendship forms a massive part of how we run the business. At the end of the day enjoying the job makes all the difference so we try to have fun as well as work hard.
"Louise has always emphasised the importance of giving back to the local community too and we all get involved in regular charity projects in the area."
Though the business was originally set up to help fill temporary jobs, it has expanded to offer permanent, contract and temporary recruitment solutions in the IT, Engineering, Commercial, Industrial and Executive sectors. Laura and Ben both said understanding people is key to finding the right roles for the right people.
Laura said: "There are two parts to this job, it's not just about finding a candidate with the right technical skills or professional qualifications, it's also making sure that they are a cultural fit for the business, the person fit is so important and quite often that is the biggest challenge."
By Tom Banner.