Back to Blogs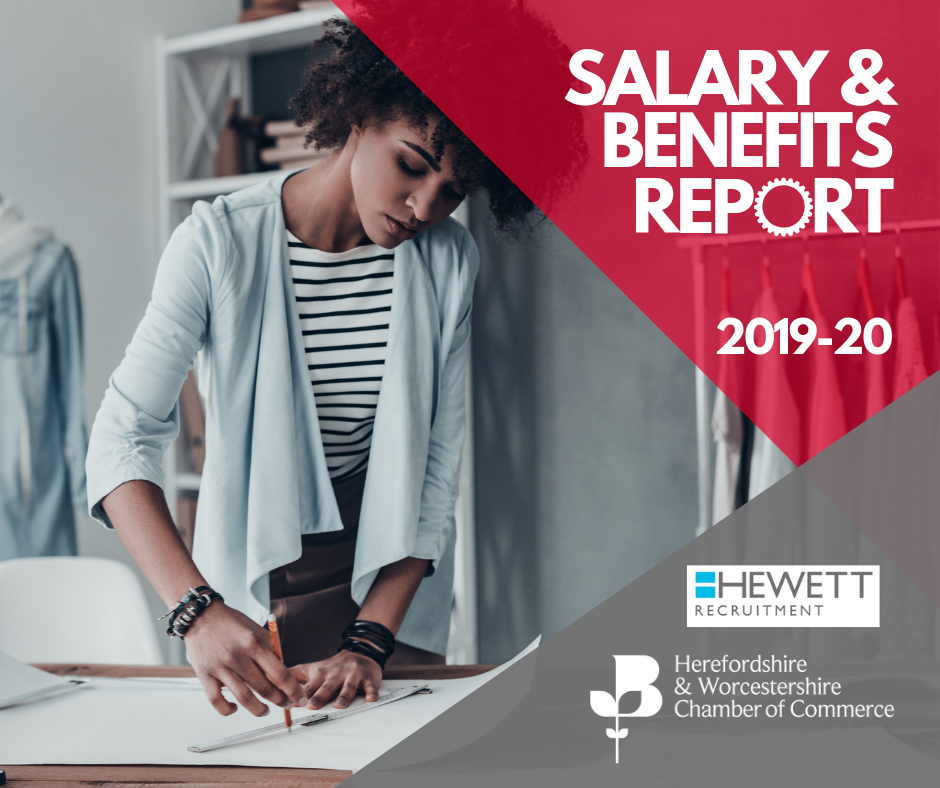 Salary & Benefits Survey: Recruitment Tips
Businesses are currently operating in an incredibly tight labour market. The most recent figures from the Office for National Statistics (ONS) suggest that unemployment has dropped to 3.8%, the lowest level on record since 1974. At the same time, vacancies in the UK labour market reached 846,000 in May 2019, 28,000 more than last year (ONS, 2019).
50% of businesses attempted to recruit staff during Quarter 1 of 2019 and of those, 60% reported that they experienced difficulties during the recruitment process (QES Q1 Report, 2019). Many local businesses are experiencing challenges when attempting to access the labour and skilled staff they require to maintain business growth. Addressing the local skills shortage remains a priority this year for Herefordshire and Worcestershire Chamber of Commerce. Working in partnership with Hewett Recruitment, the Chamber of Commerce will once again produce the annual Salary & Benefits 2019/20 report.
This report will benchmark the salaries and the benefits offered by companies across the two counties. The report will include the minimum, maximum and average salaries of a variety of roles.
At a time when provisions for flexible working and annual leave allowance are as important to candidates as their salary, it has never been more crucial to compare the salary and benefits that your business offers in order to attract and retain staff. We are encouraging as many businesses as possible to complete the survey to ensure that the report is a true reflection of the salary scale.
​
​
Introduction to the 2019/2020 Salary& Benefits Survey
58% of businesses struggle to recruit in the last 3 months. By completing the Herefordshire & Worcestershire Salary & Benefits survey, you will gain access to the FREE benchmarking report, offering locally sourced data collected to help recruit and retain staff.
3 Tips to Better Reach Candidates
The three things candidates will primarily be looking for when searching for a new role online are Job Title, Salary and Location. To ensure you fully maximise your reach and attract the top talent, you will ideally:
keep the job title fairly broad, including keywords and term candidate will realistically be searching for.

keep the salary bracket as wide as possible to individuals with a varied skillset and experience

keep the location as specific as possible: if job seekers are searching for a role within a 5m radius for example, its unlikely 'Worcestershire' or 'West Midlands' is going to provide enough detail, and therefore disengage applicants.
Flexible Working provides a competitive advantage during the recruitment process
In the 2018/19 Salary and Benefits repot. only 16% of local businesses stated the offered Flexible working. On the other hand, we know that over 80% of candidates would like a flexible working option, so by offering flexible working, part time hours or work from home opportunities, businesses can gain a significant competitive advantage.


Health & Wellbeing Initiative
In last years report, only ?? offered health and wellbeing benefits to staff. This is hugely important as we see a direct correlation between health and wellbeing initiatives and employee engagement. Adopting simple, cost-effective activities such as fitness activities and mental health workshop can really break down barriers amongst staff and strengthen teams.
Talent Shortages
We have a shortage of talent across Herefordshire & Worcestershire. Companies can retain skilled employees in multiple ways, but the number one priority would be to benchmark salaries and benefit offerings across your company and against local competitors. One easy way to do this is to use the H&W Salary & Benefits Benchmarking Survey. Completing the survey provides anonymous data to be analysed and build a clear overview of our local salary and benefits offerings within each industry.
​